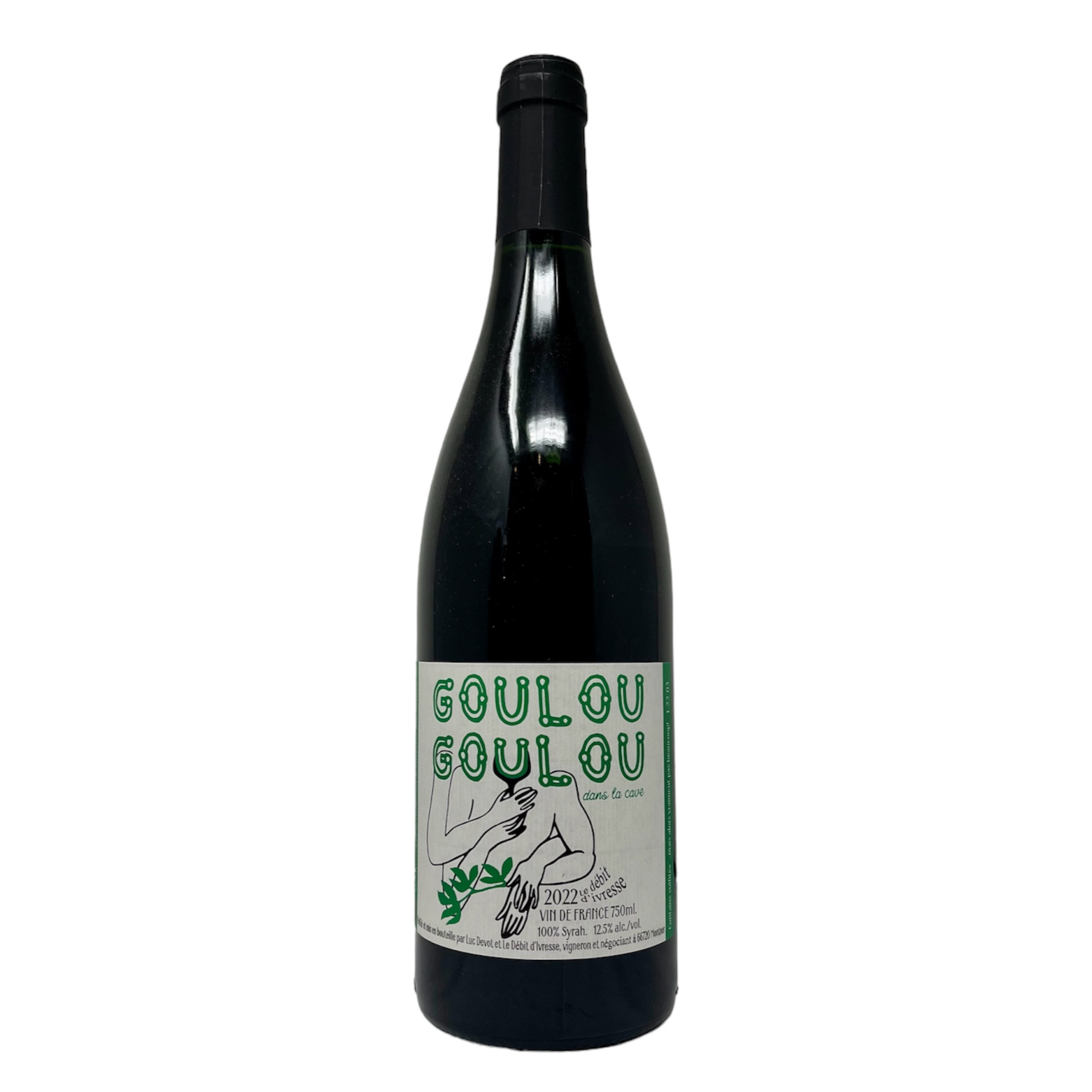 La Debit D'Ivresse, Goulou-Goulou
DESCRIPTION
Super super juicy and sinkable.
Grapes: Syrah
Place: Roussillon, France
ABV: 12.5%
Colour: Red
Vintage: 2022
PRODUCER PROFILE
uc Devot did not originally set out to be a winemaker but after working as cook, fisherman, and music festival organiser amongst other things, it was his years working for household names in natural winemaking (Loic Roure, Philippe Wiess, Jean-Louis Tribouley) that led him to make his first wines in 2017.
 
For many years, Luc had helped out those winemakers who were effectively friends and neighbours in the Roussillon around Estagel, one of the heartlands of natural winemaking in France. He had helped at harvests, in the cellar, and at wine trade shows, and slowly but surely, he started to piece together the process of getting from grapes to wine, while becoming familiar with both the demands and rewards of being a winemaker. When the opportunity arose, somewhat out of the blue, in the summer of 2017 to make his own wines, he jumped at the chance. He didn't have a formal winemaking background, and most importantly, nor did he have the necessary hardware, either for the vines or the cellar, with which to make the wines. Fortunately, he was able to lean on those around him for advice and the necessary tools of the trade. To say a big, public "thank you!" for that help, he named one of his first wines Amb Amics, which means with my friends in the local Catalan language.
 
Luc makes his wines in the village of Montner in the huge former village co-operative just a few miles from where he lives and near his vines. At one time, the building which welcomed grapes of any denomination and in varying states of health from local growers, consisted of two long rows of 500 hectolitre concrete tanks on each side of the central isle but they have been adapted to allow space for tastings, fermentation and ageing tanks, and storage of Luc's natural selection.
 
His vines, of which he has around 4.5 hectares, are mostly on schist and clay-limestone soils on gentle slopes in the foothills of the Pyrenees. The grape varieties include Syrah, Grenache Noir, Mourvèdre, Lledoner Pelut a.k.a. hairy Grenache, and Grenache Gris with most vines around 30 years old apart from his Lledoner Pelut, planted in the 1950s. To make his only white, Hydrophobia, and complete his own Grenache Gris, Luc sources a small amount of certified Agriculture Biologique Grenache Gris and Chardonnay grapes locally.
 
As for his work in the cellar, Luc learnt along the way from some of the big guns of natural winemaking and he has held true to their methods. His wines are not fined or filtered. He avoids any additives during vinification and only permits SO2 in medicinal doses. His red carbos mean light, easy drinking, but tasty wines that can be enjoyed at room temperature or straight out of the cooler.
La Debit D'Ivresse, Goulou-Goulou