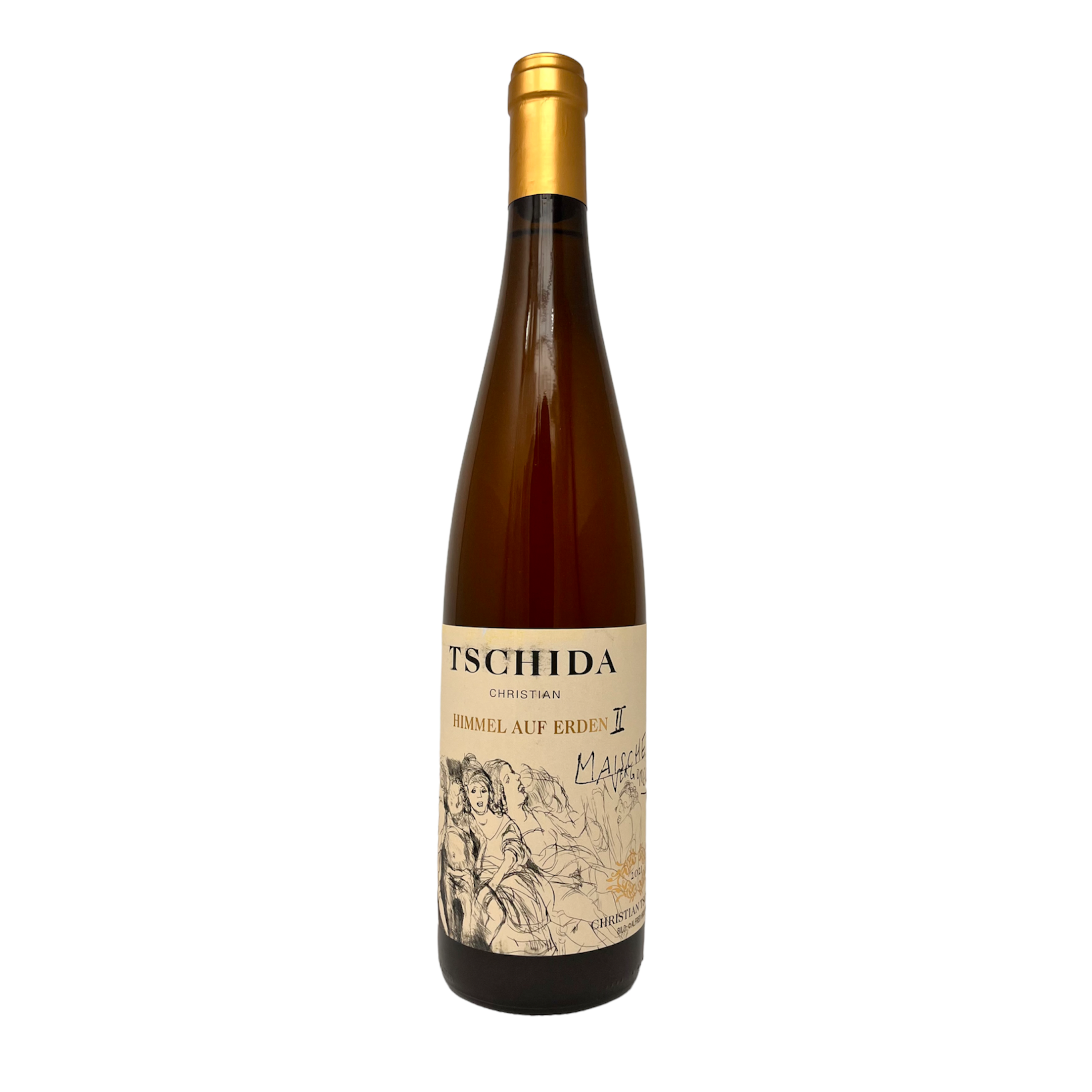 Christian Tschida, Himmel Auf Erden II Maische
DESCRIPTION
Exotic spice and sultana aromas from the Muscat at first with fresher citrus and stone fruit underneath. Supple and energetic on the palate with fine acidity and a touch of grip from the skin contact.

Grapes: Sauvignon Blanc, Scheurebe, Muskat Ottonel
Place: Burgenland, Austria
ABV: 12.0%
Colour: Orange
Vintage: 2016
PRODUCER PROFILE
Christian Tschida started his career long before he ever bottled wines under his own label. In fact, for a long time Christian was experimenting with different techniques, methods and vessels, long before the 'natural movement' was widely established in Austria. The Tschida family is a long-lasting legacy of winemakers in the village of Illmitz on the Eastern shores of Neusiedlersee. In addition to his family vineyards, Christian has also invested in new (and old) vineyards in the village of Purbach located on the opposite side of the lake within the Leithaberg mountain range. In total, Christian owns around 14 hectares of vineyards on both sides of the lake, working with a vast variety of indigenous grapes, as well as personal favourites such as old-vine Cabernet Franc and Syrah on pure limestone. Christian's perfectionist approach is apparent in both the vineyards and cellar. Christian's biggest investment are his vineyards. Each year he and his father would bring out compost and straw from the nearby lake to consistently cover the soil from the heat and therefore keep the vineyards moist and balanced. His vertical press (the only technical tool he uses) imitates the pressure of a handshake, meaning that only the brightest and purest juice is used. In the cellar, Christian now works with large barrels ranging from 1000L to 3000L in size, which to him, give the ideal balance of freshness and maturation. His creativity and love for experimentation is often resembled in his passion for art and label design (having trained as a graphic designer). Next to his beautiful Himmel Auf Erden collection, he has recently released one-off art labels such as Abra Ka Dabra, Birdscape and Brutal!, a special. friendship release with the team behind Bar Brutal in Barcelona.
Christian Tschida, Himmel Auf Erden II Maische