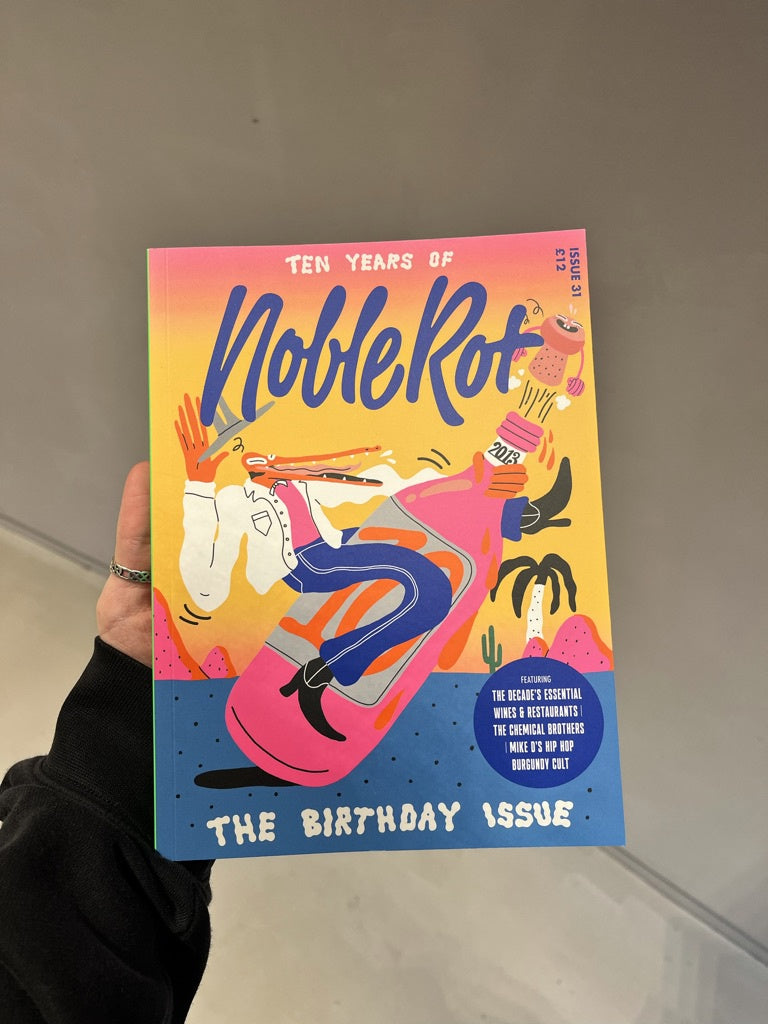 DESCRIPTION
TEN YEARS OF NOBLE ROT 
Published 24th February 2023 
Thirteen may be unlucky for some but I'm sure that there could not have been a more fortuitous time to launch a magazine blurring the lines of 'WINE MUSIC FOOD LIFE' than 2013. Indeed, from the moment we published the first issue of Noble Rot in February of that year we've been riding the tidal wave of change that's been sweeping wine and food culture and, holy Hermitage, it's been fun. Looking back now, we're bursting with happiness that Noble Rot has told the stories of so many of our favourite vignerons, inter- viewed our artistic heroes and heroines, published thrilling writers, illustrators and photographers, and spawned two beloved London restaurants – with a third opening in Mayfair this spring. It's been a stellar decade alright, which we toast in this, our 10th birthday issue, with a cast of sainted Rotters.
Kicking off the proceedings, we welcome Britain's two greatest Marinas: Hyde – the country's most hilarious (and deliciously savage) commentator on politics and culture, who helps celebrate our anniversary. And the ever brilliant O'Loughlin, writing here about the most influential restaurants of the decade. Having hung up her spurs as The Sunday Times's restaurant critic, we're very proud to welcome her as Noble Rot's new Contributing Editor.
Somebody else who, judging by her joyous prose, might've had a career as a critic if not for the fact that she's one of Hollywood's most successful actresses, is Keira Knightley, who writes about her 'greatest meal'.
And for more affirmation of our original 'WINE MUSIC FOOD LIFE' mission statement, Mike D charts falling in love with Burgundy during the early days of The Beastie Boys in 'The Hip Hop Burgundy Wine Cult'.
But what's a Noble Rot anniversary for, if not a time to reflect on some of the wines that brought us sweet joy, as chosen by writers including Jancis Robinson, William Kelley and Alice Feiring? ('20 Essential Wines of the Past Decade'). And not only that, but then tasted and given the seal of approval by the rave generation's most illustrious duo – The Chemical Brothers – while being interviewed by John Niven in our Greek St den. The wisdom gleaned from our now signature sessions often astounds, as Kate Spicer looks back on in 'What We've Learnt About Humanity from a Decade of Noble Rot interviews'. Elsewhere Jay McInerney celebrates 60 years of Ridge Vineyards, Stephen Harris continues his series on food movements and we feature articles on Chassagne-Montrachet, Priorat, Oslavian Ribolla, wine auctions, digestifs, and the much loved and missed wine importer Becky Wasserman-Hone.